Here is the collection of the 5 latest Bootstrap Admin Dashboard Templates August 2015 Listed Below  :
1. Velonic – Bootstrap Admin Dashboard and Frontend Template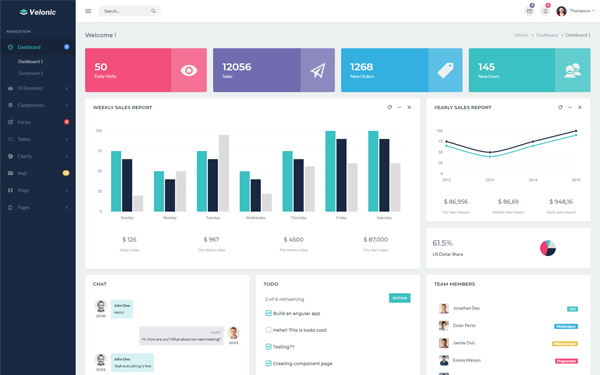 Velonic is a fully featured premium admin template built on top of awesome Bootstrap 3.3.5, modern web technology HTML5, CSS3 and jQuery. It has many ready to use hand crafted components. The theme is fully responsive, easy to customize, and the code is super easy to understand and gives power to any developer to turn this theme into real web application.
Sumea – Bootstrap Admin Dashboard Template
Sumea Bootstrap admin dashboard template built from scratch based on the latest Bootstrap framework ideal for building applications, charts, CRM, CMS with lots of colors.
3. Source Admin – Bootstrap Admin Template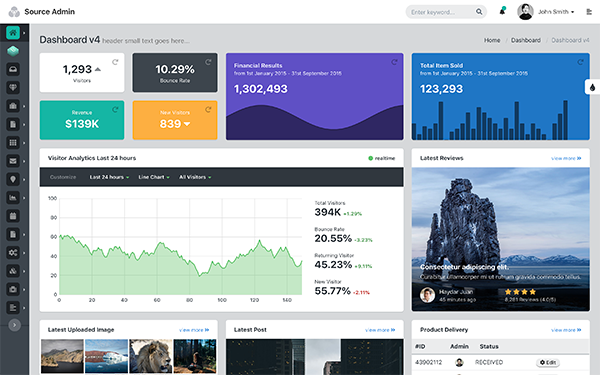 Source Admin is the new premium and fully responsive admin template. Concept of design for Source Admin is based on the current trend FLAT design and finally it comes out with a clean and neat design. It is built on top of the popular Bootstrap Framework. Besides that, it is bundled with a lot of third party plugins and useable elements such as buttons, thumbnails, media objects and much more..
4. Outline – AngularJS + HTML Admin Template
Outline is built ground up to be the most developer friendly theme in the marketplace. With multiple color schemes and layouts, Outline is clean, nimble and flexible. This flexibility comes with easy to use and clean code that can be picked up by anyone with minimal experience in Bootstrap, as we build upon the code base used by millions. From the get-go, we provide two separate versions of the theme. The standalone HTML version, and AngularJS version with Bower and Grunt to make development and deployment a breeze.
5. AbsoluteAdmin – Bootstrap Admin Dashboard Template
The AbsoluteAdmin Bootstrap 3 template is more than your typical admin dashboard. Built on Bootstrap 3 it contains the tools you need to make your next project web app a success. This theme is the platform for which dozens of updates will be applied to. Quickly, and carefully turning it into an all encompassing mega suite of developer tools.
It already includes custom tools unique to the AbsoluteAdmin Framework, as well as countless handpicked and optimized plugins. Including the exclusive AbsoluteAdmin plugin. Allowing you to instantly change a widgets, color, title, position and more! All settings are saved and persist after page refresh via local storage.