Bootstrap is powerful open source UI design front end development from Twitter. Since its launch from early 2011 its growing faster then ever because of  its powerful features, responsive designs, faster development and easy to use. Bootstrap community is becoming hugely popular .
More About Bootstrap :
Twitter Bootstrap is a front-end toolkit for rapidly developing web applications and is built with Less, a flexible pre-processor offering more power than traditional CSS (variables, nested declarations, mix-ins, operations, and color functions)

Twitter Bootstrap is a free collection of tools for creating websites and web applications. It contains HTML and CSS-based design templates for typography, forms, buttons, charts, navigation and other interface components, as well as optional JavaScript extensions.

It is the most popular project in GitHub and is used by NASA and MSNBC among others.
Origin
Bootstrap was developed by Mark Otto and Jacob Thornton at Twitter as a framework to encourage consistency across internal tools. Before Bootstrap, various libraries were used for interface development, which led to inconsistencies and a high maintenance burden. According to Twitter developer Mark Otto, in face of those challenges (source wikipedia)

Features

Twitter Bootstrap consist a lot of useful resources for template.

jQuery plugins, Complete styleguide documentation, HTML components, 12-column grid system, LESS file, Responsive Features according to resolutions and devices.
Here, I have collected list of best free and paid 25 awesome Twitter Bootstrap Themes and Templates :
1) Free Bootstrap Themes And Templates From Bootstrappage : (Demo| More Info | Free Download)
Bootstrappage provide free quality bootstrap based themes and templates.
2) Bootbusiness  Free Bootstrap Theme : (Demo | More Info | Free Download )
Bootbusiness mainly focused for business and corporate websites. This can be used to list and market various products of your businesss.Designed in HTML5 and CSS3 techniques.
United is free Bootstrap theme provided free by Bootswatch.
4) Bootstrap Live WYSIWYG HTML5 Editor: (Demo | More Info | Download)
Bootstrap Live Editor is a WYSIWYG HTML5 Editor built for Bootstrap. It offers a nice and elegant way to edit and beautify html content with Bootstrap ready UI elements.
5)Virgin Admin Bootstrap Template : (Demo | More Info | Download)
It's not a theme, it's an app. Contains the latest and best in market technologies. Virgin is built as an all purpose theme with widgets, admin dashboards, portfolios, galleries and everything included.
6) Output Responsive Multi-Purpose WordPress Bootstrap  Theme : (Demo | More Info | Download)
Output is the result of more then two years experience of improving usability of our themes. This multipurpose theme with a wide set of functionality will suit any needs and tasks you want to accomplish. See for yourself, this theme comes with a powerful GT3 Page Builder that has already won the respect among our customers. It's Wocommerce Ready which means you can deploy a shop in a matter of seconds. If you are a foreign customer or want to trade abroad, no problem WPML MULTI LANGUAGE plugin is already integrated, so you can translate your theme to your language right away, no additional plugins required. At last for those of you who requires flexible a customizable contact forms we added Contact Form 7 support. So now you can easily add and customize any kind of forms. And all this tangible benefits are wrapped around clean and elegant design that can be easily customized. Output is one of those low hanging fruits that you can't pass by without having it.
7)Bootstrap Extra Pages Layouts Responsive Website Template : (Demo | More Info | Download)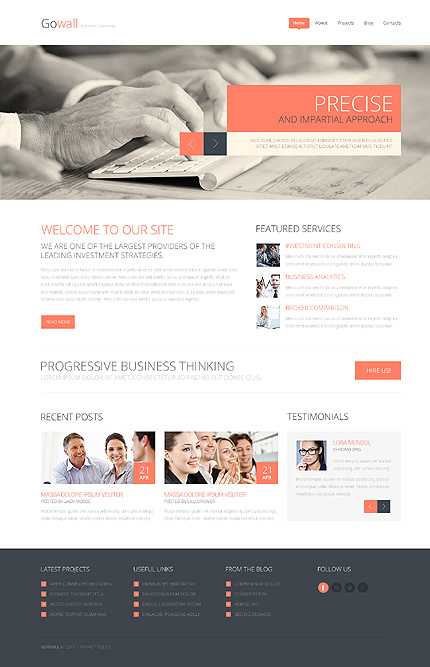 Bootstrap Extra Pages Layouts Responsive Website Template is bootstrap ready responsive web template.
8) Pixel – Responsive Bootstrap HTML5 Template : (Demo | More Info | Download)
Pixel is a agency and corporate theme. Its simple and clean HTML5 & CSS3 Template. Its a full responsive theme built with Bootstrap.
9) SimpliQ Flat & Responsive Admin Bootstrap Template: (Demo | More Info | Download)
SimpliQ Flat & Responsive Admin Template is a fully featured, premium, Bootstrap Admin Template with Modern Flat Style.
Built with LESS, delivered with LESS and CSS Files.
If you looking for dashboard template for your application SimpliQ Flat & Responsive Admin Template is perfect solution for you. SimpliQ Flat & Responsive Admin Template contains many plugins and widgets ex. charts, chats, weekly Stats, last users, To-Do list, support tickets and many more, so your app will be look awesome.
SimpliQ Flat & Responsive Admin Template based on Bootstrap 2.3.2 from Twitter. It works on all major browsers and optimizes itself for tablets and mobile phones.
SimpliQ Flat & Responsive Admin Template support Retina Displays, all elements look amazing!
SimpliQ Flat & Responsive Admin Template contains over 500 high resolution icons.
10)Start Up Admin Bootstrap Theme : (Demo | More Info |Download)
Start Up – Responsive Admin template was built with the popular Bootstrap framework from Twitter and powered with Sass. Start Up Admin template comes with customized variables that make this admin template very unique.
The admin template adapts seamlessly with any device such as desktop, mac, tablets and mobile phones. You can use this template if you are building an administrator panel for any website.
11) Chromatron HTML5 Admin Backend : (Demo | More Info | Download )
Chromatron is a simple and professional HTML5 template for your backend administration or user interface, both for desktop and mobile. Built on latest Twitter
Bootstrap and powered with LESS, Chromatron will save you hours in developing your project. Template is available in 4 default colors and packed with basic and popular user
interface elements and widgets.
Built on Twitter Bootstrap
Bootstrap is one of the most complete front-end toolkits over the internet. Thats why we decided to use it as our skeleton framework for all upcoming templates. Maintaining native Bootstrap functionality, enriched of pleasing design and tons of new template features, makes it very powerful UI kit for rapid development.
12) Mafioso HTML 5 Responsive Bootstrap Template : (Demo | More Info | Download)
Mafioso  is fully responsive bootstrap template with 8 HTML pages,8 psd files,sortable portfolio,lightbox2 image gallery,2 pricing tables etc..
13) Proper – Responsive Real Estate Template : (Demo | More Info | Download)
Proper is a simple, easily customized Responsive HTML template that can be used to build a real estate site with listings and property details pages
14) Bootstrap Responsive Website Template : (Demo | More Info | Download)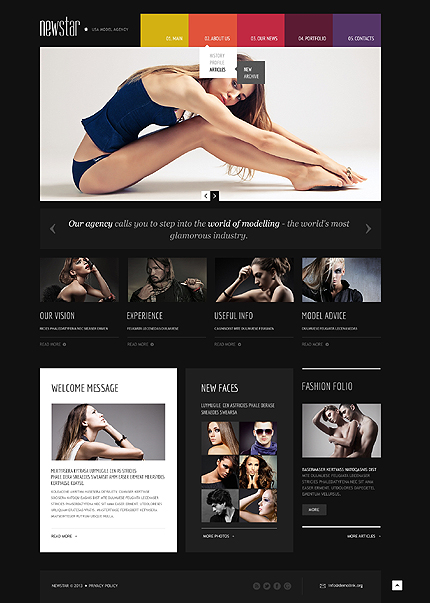 This Bootstrap template is suitable for fashion and modeling related sites but you can configure for your business too.
15) Anubis – Responsive Bootstrap WordPress Theme : (Demo |More Info|Download )
Anubis is an ultra responsive, beautiful WordPress theme that is perfect for freelancers, agencies, designers and creative people. It is an elegant & modern solution packed up with an incredibly great amount of high quality features.
Responsive Design and Retina Ready – Serve an optimised version of the volumes theme to your visitors using tablet and mobile devices. It is optimized for Retina Displays (used in iPhone, iPad, iPod Touch and MacBook Pro Retina).
Post formats – Support for post formats means you can fill your blog with your self-hosted video, audio, images, galleries and of course good old standard posts.
16) Nyirok – Responsive Portfolio & Business Bootstrap JoomlaTemplates : (Demo | More Info | Download)
Nyirok is a stunning, clean and fresh Joomla templates. This templates easily fits for any kind of website demographics. Aside from just looking beautifully polished and clean, it comes packed with features and options, powerful T3 Joomlart Framework,a slideshow module, easily configured various modules positions, a newsletter plugin, and a lot other best and selected extensions . Nyirok is a responsive templates and optimized for tablet and any others mobile screen. So, If you're looking for a fresh new Joomla templates, than look no further.
17) Grid – Responsive Portfolio Retina Template : (Demo | More Info | Download)
If you love flat and retina-supported design, GRID will surely amaze you at the first sight. It is the fully responsive HTML5 & CSS3 template that best used for blogging, personal portfolio, even business portal. The template layout and mechanism are enhanced to deliver all images and graphics with WOW effect.
GRID works seamlessly on a wide range of devices including PCs, mobiles, laptops, etc. It has the sophisticated layout with colorful design and carefully crafted graphic (that is retina supported) helping you to attract more visitors to your website.
18) Jarvis – Smart Admin Template : (Demo | More Info | Download)
Simple yet innovative, JARVIS admin template is one of a kind. Jarvis utilizes LESS (also includes commented CSS) and uses state of the art custom cut features that are tested for reliability and robust performance with a blend of the latest design trends. Jarvis is constantly evolving, it is updated regularly and new features are added from time to time.
19) Minx – Responsive HTML5 Template : (Demo | More Info | Download)
Minx is a professional responsive creative HTML5 portfolio template which has been built using the Twitter Bootstrap framework.
The template comes complete with 28+ pages, six colour schemes in both light and dark styles. Sliders, carousels, PrettyPhoto, Pinterest photostream, a working contact form and also uses lots of features which are available as part of Twitter Bootstrap.
20)Metronic – Responsive Admin Dashboard Template : (Demo | More Info | Download)
Metronic is a responsive admin dashboard template powered with Twitter Bootstrap Framework for admin and backend applications. Metronic has a clean and intuitive metro style design which makes your next project look awesome and yet user friendly. Metronic comes with a huge collection of plugins and UI components and it works in all major web browsers, tablets and phones.
21) Neuron Responsive WordPress Theme : (Demo | More Info | Download)
Neuron Responsive WordPress Theme is a clean and modern theme design with 3 built in theme colors to suit your needs. With its high contrast design, Neuron will give your next project the eye catching edge to stand out from the crowd, and it's intuitive interface will ensure the user experience you'd expect from a premium WordPress theme. Built on Bootstrap, Neuron has been carefully crafted to be easily customized and flexible enough utilizing custom built plugins. Also included in the package is the popular LayerSlider plugin which has several Parallax and 3D slider effects which can be fully customized via the WordPress admin panel. Being responsive the theme layout is fluid and is compatible with all mobile and tablet devices.
22)Lava – Single & Multi Page BootstrapTheme: (Demo | More Info | Download)
Lava is a beautiful, unique Bootstrap theme built for the creative business or individual. Its powered by HTML5 and the latest CSS3 technologies. Designed for multipurpose use, this theme includes over 10 HTML pages, CSS3 animations, pricing charts, a working contact form, sign up pages, and lots of other features.
23) Serenity Minimal One Page Bootstrap Template : (Demo | More Info | Download)
Serenity is a minimal bootstrap template. Available in 2 layouts ( Wide & Narrow ). Crafted with keeping in mind the softness & clarity of feathers. This template is for everyone who loves minimal designs.
24) Fitnex – Responsive HTML Landing Page : (Demo | More Info | Download)
Fitnex is a Multipurpose Landing Page Based on Bootstrap Framework , it include 3 colors/skins .
This Template is the perfect showcase for your Company or Service.
25) Peach Realestate – WordPress Bootstrap Theme: (Demo | More Info | Download)
Peach Realestate – WordPress is an impressionistic, responsive Bootstrap theme.his CMS site is built to work across a wide range of medium including all major mobile browsers with ease and comfort of the user. With the combination of the automatic Google Map Plotter, LocalStorage based shortlist widget and responsive sliders, gallery and videos makes this a very unique theme.